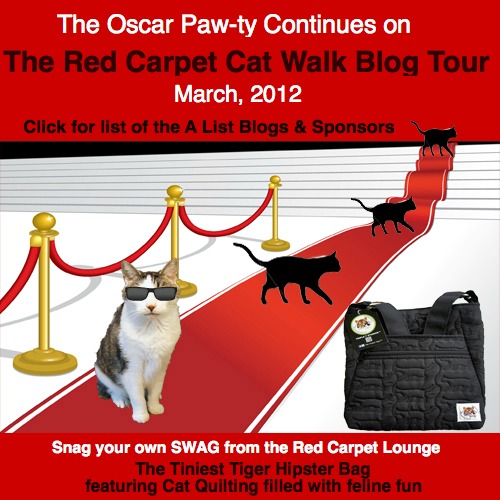 Our friends at The Tiniest Tiger Conservation Cub Club were just in Hollywood for the Oskar parties to give out The Tineist Tiger Hipster Bag in a swag room for the attendees.
Now is your chance to win one of these hipster bags which is packed full of goodies for any cat lover!
When I got the bag in the mail Chloe was all over it smelling the good catnip and claiming the bag for herself, as you can see.
This one of a kind hipster features The Tiniest Tiger's feline finesse quilted inot the fabric creating a subtle yet cool cat appearance. The irrestible design combined with the hands free practicality of the cross body Hipster make this the perfect bag when you are on the prowl.
The Hipster is slightly padded providing protection for your iPad, mobile phone, and other essentials. Handy front zip pocket keeps your ID, cash, credit cards and keys secure, yet easy for you to access.
This bag comes filled with amazing feline friendly fun products and savings of over $200.
We can ship the Tiniest Tiger Hipster Bag to the USA, Canada, Europe & Australia, so check out the Rafflecopter below for your chance to win. Contest will be open until midnight, March 5th.
a Rafflecopter giveaway